A flea-market find turns out to hold the key to the past.
Time Travelling Toaster
When Alvis Ptarmigan visited the Millbanks Flea Market last April, he expected to find some small kitchen appliances that he could salvage and repair in his basement workshop. And the Phillpott XC-3 seemed to be exactly what he had in mind — an elaborate device, clearly intended for professional kitchens, with plenty of capacity and a wide assortment of controls. Only after repairing a damaged power cord did Alvis discover that the Phillpott didn't merely make toast: it also serves as an efficient time travel device.
"There I was, on the beach at Guadalcanal."
"I wondered why a toaster had a dial running from 1600 through 2100," Ptarmigan recalls. He originally speculated that these might refer to heating temperatures, but realized that such scorching heat would quickly incinerate his breakfast.
In any case, the first use soon revealed the answer — and presented fresh challenges. "I set the dial half-way," he recalls. "There I was, on the beach at Guadalcanal. There was a lot to see!" Though opportunities for viewing wildlife were disappointingly limited due to the clamorous hullaballoo, the smell of napalm in the morning did whet the appetite.
Fortunately, Mr. Ptarmigan happened to be carrying his MacBook Pro whilst he prepared his breakfast. Thinking fast, he found shelter behind a stout palm tree and opened a new Tinderbox document.
"I knew I had to take notes," he recalls. "First, how often does a guy like me wind up in the middle of a historic battle? And I didn't know exactly where I was, or how I was going to get back, or whether my toast would be ready when I did return. I was concerned, of course, that I might miss my morning train and be late for work."
The Tinderbox map view turned out to be the right tool for the job. Ptarmigan found himself taking notes about the terrain, the sea conditions, and noise ("I hadn't realized just how loud an explosion can be!" he explains), and the many officers he saw running one way or another. "I saw one guy with a star; I think maybe that was General Vandegrift."
Because Tinderbox is designed to accommodate frequent reorganization as your needs change, it mattered little that Mr. Ptarmigan had no idea where he was or what was happening. "I could have been anywhere," he observes. "Only after carefully reviewing my notes did I come across the key discovery: I could ask the sergeant under the next palm tree. Fortunately, he did know where we were!"
Alvin Ptarmigan is assistant curator in the Manuscripts Division at The Miskatonic Museum of Modern Art, where he helps restore damaged ledger books and incantations. "I've always been fascinated by ledgermain," he explains, "and in school I studied forensic accounting." He also uses Tinderbox to track work in the restoration laboratory and to record observations about experimental techniques being developed to remove stains and repair torn and crumbled pages.
Ptarmigan soon found himself back in his kitchen. He plans further experiments, and looks forward eagerly to Twig for the iPad. "The iPad will be a big help, especially if I find myself in Tudor England."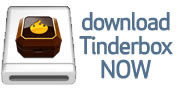 for Mac OS X. What's new? ❧ More download options.
Tinderbox for you, for your team, or your enterprise. Plus upgrades, The Tinderbox Way, and more. Order here.
Learn About Tinderbox
Application Notes
Using Tinderbox