Tinderbox 2.3
Tinderbox 2.3 offers more than 80 improvements and enhancements. It's faster, more flexible, and more responsive than ever before.
Better, more attractive text

tabs
improved font rendering
nicer highlighting

More expressive maps
More powerful agents

new syntax for searching specific notes or paths
flexible new queries
powerful new actions

Faster updates

Much faster spell checking
For details on all the improvements, simply download the Tinderbox demonstration and check the release notes.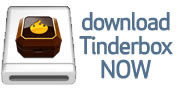 for Mac OS X. What's new? ❧ More download options.
Tinderbox for you, for your team, or your enterprise. Plus upgrades, The Tinderbox Way, and more.
---
---
Learn About Tinderbox
Using Tinderbox
Application Notes
Syndication
EXCHANGE

Tinderbox Public File Exchange
TINDERBOX

Tinderbox news
Subscribe!
Keep in touch with Tinderbox! Moderated, concise, and timely; we never share your email address.