Tinderbox 4.5
look better, learn more
Everything looks better in Tinderbox 4.5. But it's not just chartjunk for show: Tinderbox 4.5 gives you new ways to visualize your ideas.
Every agent and container can have a pull-down summary table to show you key facts at a glance
Any agent and container can provide an instant sparkline plot or bargraph
Drop shadows add style — and their color, distance, and blur can be tied directly to information in your notes
Dividers let you draw the line, right in your maps
capture more ideas
In-place outline editing lets you add and revise instantly
New agent manager lets agents update quickly and automatically — without interruptions or distraction
Scroll inside containers
New options for automatic cleanup
Better address-book and vCard integration, with automatic linking
More than sixty improvements you can see (and literally hundreds you can't) make Tinderbox 4.5 a delight to see — and a powerful tool to capture, analyze, and share your complex ideas.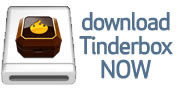 for Mac OS X. What's new? ❧ More download options.
Tinderbox for you, for your team, or your enterprise. Plus upgrades, The Tinderbox Way, and more.
---
---
Learn About Tinderbox
Using Tinderbox
Application Notes
Syndication
EXCHANGE

Tinderbox Public File Exchange
TINDERBOX

Tinderbox news
Subscribe!
Keep in touch with Tinderbox! Moderated, concise, and timely; we never share your email address.