Diane Greco is the author of Cyborg: Engineering The Body Electric. From 1994-1997, she was a hypertext editor at Eastgate Systems, Inc. She is currently completing a collection of electronic poetry, Behind The Lines, and is a finishing her doctorate in Science, Technology and Society at MIT.

Diane Greco
Editing hypertexts for publication is like groping through an unfamiliar house in the dark. All the basic structural elements are there--walls, floors, ceilings, windows, doors--but one wrong move and you've shattered a priceless piece of faience or flattened the family dog because you thought it was a hassock.

When it comes to editing hypertexts, editors lack even rudimentary floor plans; nevertheless, certain lessons learned in print editing remain useful when applied to editing for hypertext. Here are a few that I've found helpful in three years of editing for Eastgate:

The Fiction Editor, the Novel, and the Novelist
by Thomas McCormack
Order your copy: $5.56


This wonderful book discusses not only specific technical, craft-oriented issues in planning, writing, and revising a novel, but also contains an extended section of notes, reminiscences, and amusing advice for coping with some common frustrations experienced by writers and editors during the publication process.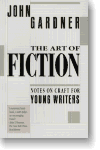 The Art of Fiction
by John Gardner
Order your copy: $8.80

No matter how refined, an editor's sensibility is not worth much if she doesn't have a vocabulary for conveying concerns about a manuscript to writers. This book provides just such a vocabulary. Though readers may find Gardner's section on "Aesthetic Law and Artistic Mystery" dated, and his tone at times donnish, this book contains some of the best diagnoses I have seen anywhere of problems commonly found even in very polished writing, complete with prescriptions for fixing them.


Editors on Editing, 3rd edition
by Gerald Gross, ed.
Order your copy: $13.56

A set of essays contributed by editors, describing the practice of their craft. The essays treat a number of important topics, including: line editing, acquisitions, negotiating interests of writers and publishers, and editing works for different genres and audiences (sci-fi, reference, biography, small press, romance, etc.)

---
---