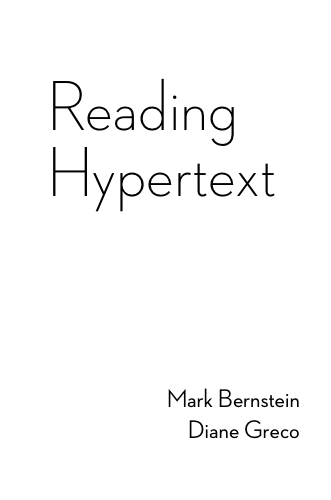 The future of serious writing will lie on the screen. We will read, for reading is indispensable, but we will be less closely tied to the book, to paper and ink. The chief innovation of electronic writing is the link – the connection between pages that makes the Web possible and that has already transformed the way we read.
For twenty years, fine writers have worked to explore the possibilities of the link, to come to grips with the most important new punctuation since the comma. Many of our finest critics have studied hypertext, especially such classics as Michael Joyce's afternoon and Shelley Jackson's Patchwork Girl.
In Reading Hypertext, Mark Bernstein and Diane Greco have selected the best and most important studies of hypertext reading and criticism, drawn from disciplines ranging from philosophy and classical philology to film theory and technocriticism. These indispensable studies reveal how much we now understand about the reading hypertext, and point the way for important new work.
Reviewers
"This collection includes many of the central papers by the most thoughtful authors concerned with literary hypertexts. If you want to understand reading (and thus writing) hypertexts, this is the book to read." – Frank M. Shipman III, Texas A&M University
"Reading Hypertext guides you through the field much as a close and witty friend might show you their home town — introducing key themes, influential people, and a variety of hypertexts. The book gives a flavour of reading hypertext; it invites, intrigues, and leaves you longing for more." – Lilia Efimova, Novay
"Solid high ground from which to study the shifting landscape of literary hypertext. The book ably presents the breadth of thinking and depth of insight that have characterized over two decades of scholarship" – John Tolva, IBM
Table Of Contents
2. Why Are We Still Talking Like This? 15
3. La Maison Hypertext 19
4. Piecing Together And Tearing Apart: Finding The Story In Afternoon 21
6. "How Do I Stop This Thing?" Closure And Indeterminacy In Interactive Narratives 59
7. Reconfiguring Writing 89
8. The Lyrical Quality Of Links 99
9. A Pragmatics Of Links 103
10. Stitching Together Narrative, Sexuality, Self: Shelley Jackson's Patchwork Girl 119
11. These Waves Of Bugs 129
12. Cinematic Paradigms For Hypertext 137
13. Nonce Upon Some Times: Rereading Hypertext Fiction 149
14. Returning In Twilight: Joyce's Twilight, A Symphony 165
15. Hypertext Structure Under Pressure 193
16. Reading Spatial Hypertext 213
17. Hypertext Teaching 223
18. Hypertext With Consequences: Recovering A Politics Of Hypertext 239
19. What The Geeks Know: Hypertext And The Problem Of Literacy 251