Rebound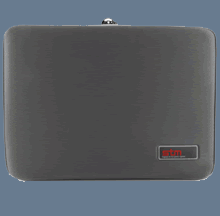 The Rebound laptop portfolio uses new foam technology to protect your laptop against shock, bumps, and scratches. It's made from high resistance polyurethane foam that seems rigid on first touch, but actually compresses and indents when you put pressure on it. The foam then slowly expands and reverts to its original condition.
This slow compression and rebound release acts as a shock absorber, spreading the impact of sudden bumps and jolts and generally providing a higher level of protection. Rebound is the perfect choice for someone who wants a smaller, lighter laptop case but needs more protection than the NeoCase provides.
Rebound zips around 3 sides, so you can work without removing your laptop from the case. And it's carefully tailored in five separate sizes, which is a nuisance for us but wonderful for you.
Rebound is nicely detailed. The durable, double zippers, for example, are protected by flanges so they never touch your laptop.