Jim Rosenberg is the author of Intergrams (Eastgate Quarterly Review of Hypertext 1.1), and of The Barrier Frames and Diffractions Through (Eastgate Quarterly Review of Hypertext 2.3).
Rosenberg was born in 1947 in Denver, Colorado and received his undergraduate education at Pomona College and his graduate education at the University of California at Berkeley -- both degrees being mathematics. His poetry has appeared in literary magazines including This, Tyuonyi, Interstate, Open Reading, Toothpick, Vort and BUTTONS. He has performed his poetry at The San Francisco Poetry Center, Intersection, San Francisco; Cody's, Berkeley; St. Mark's Church in the Bowery, New York; and The Kitchen, New York.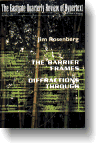 His works for magnetic tape have been performed by radio stations KPFA Berkeley, WBAI New York, and VPRO Amsterdam; and by the Stanford Music Ensemble. "Intermittance," a poem for four simultaneous voices and a conductor, has been anthologized in Scores: An Anthology of New Music, ed. Roger Johnson, Schirmer Books, 1981. He has constructed the word environments Temporary Poetry 10/74, Les Salons Vides, San Francisco, and Permanent and Temporary Poetry 5/75, The Kitchen, New York.
He began a life-long concern with non-linear poetic forms in 1966, with a series of polylinear poems called Word Nets. By 1968 this concern had evolved into an ongoing series of Diagram Poems, which continues to the present. The diagrams began as an effort to support word clusters, by analogy to the musical concept of tone clusters; because the juxtaposition of words in a cluster disrupted syntax, an alternate channel was necessary for syntax. The diagram concept has provided a rich ground for experimentation with structural concepts not present in ordinary syntax, including null relationships, feedback loops, and interior links. This body of works includes Diagrams Series 3 and Diagrams Series 4, ad hoc circulations published by the author using a computer. Diagrams Series 4 is available online electronically without manufacture through The ArtCom Electronic Network on The WELL, Sausalito, California, with access via CompuServe's packet switching network.
He has lived since 1974 in a stone house built in the late 18th century in Grindstone, Pennsylvania, with his wife and co-experimenter, the painter Mary Jean Kenton.