Tinderbox 4.0
Upgrades are free if you purchased Tinderbox within the past year. If you own any version of Tinderbox, you can get Tinderbox 3.5 today and receive a full year of free upgrades for just $90.
In all, Tinderbox 4 features nearly 100 new features and improvements.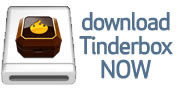 Download Tinderbox 3.6.2 for Mac OS X. More download options.
"A fantastic tool for interoffice brainstorming, meeting note-taking, or just sitting down to think by yourself" -- Sean Carton, clickZ
"Amazing...clever and elegant." — The Guardian
"The Weblog Wonder" -- MacWorld (4.5 mice)
The most useful piece of software I have on my PowerBook. -- Rob McNair-Huff, editor, Mac Net Journal
Learn About Tinderbox
User Stories
Syndication
EXCHANGE

Tinderbox Public File Exchange
TINDERBOX

Tinderbox news
"The software I feel like I've been waiting 15 years to have" -- Doug Miller, CTO, iRobotics
"A truly elegant thinking environment" -- David Fultz
"Offers innovation driven companies a unique new way to both manipulate and manage ideas visually" -- Robert Ouellette, Boxes and Arrows
Subscribe!
Keep in touch with Tinderbox! Moderated, concise, and timely; we never share your email address.