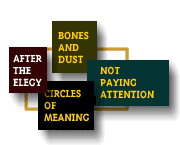 lit crit hotline
Victory Garden was, in any case, a strange and ill-considered choice for Birkerts.

Every writer is different, and every reader prefers some styles, and aspects, of writing. Judicious critics ask, "What does this writer do well?", and seek out writers whose excellence matches their own taste.

Birkerts, as it happens, loves "the subtle suction exerted by masterly prose" above all else (p. 151). He's less interested in structure, plot, and incident. Moulthrop, on the other hand, is deeply interested in dramatic energy and narrative structure. He's not a prose stylist.

People often phone Eastgate to ask, "which hypertext should I read?" We ask in turn, "what writers do you particularly like?"

Perversely, in choosing to read just one hypertext, Birkerts hit upon a hypertext he was unlikely to enjoy.