Syncing with Simplenote

Tinderbox 5.5 syncs with Simplenote. You can share notes seamlessly on the Web and with your iPad, iPhone, or iPod Touch.
"The Simplenote feature, in my opinion, is awesome. It will probably change whole parts of my workflow." — Andreas Vlach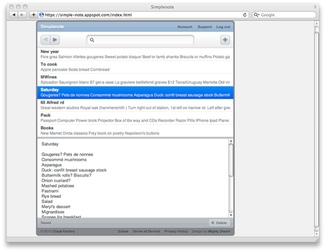 Just visit Simplenote on the Web to sign up for your $3.99 Web account, or download the free Simplenote app in the App store. (Premium accounts cost $8.99/year and provide free backup and other nice features).
"What a terrific way to combine the ease and portability of text files with the parsing, analyzing, and processing power of Tinderbox!" — Jack Baty
Then, choose a Tinderbox document you'd like to sync. Enter your Simplenote user name and password in Document Preference, and you're set: Tinderbox will create a Simplenote container and synchronize it to the cloud.
Whenever you open or save your document, Tinderbox will check with the Simplenote cloud. Notes that you've changed in Tinderbox will be sent to the Web — and to your iPad or iPhone. Notes you've changed on your iPad or iPhone will be updated in your Tinderbox document.
You can synchronize several different Tinderbox documents with the same account, or set up separate accounts for each document. Simplenote Premium accounts can receive email, providing a simple new way to be able to email straight to a Tinderbox document.
---
Tinderbox notes have a title and text. Simplenote notes don't have a title. When syncing, Tinderbox will try to invent a good title from the text of the note.
You can duplicate sync'd notes and move them elsewhere in your document, and the copies will remain unchanged even if you modify or delete the note in the cloud. Or, you can make aliases to your Simplenote notes, and refer to the sync'd copy from any part of your document.