Writing: Giles Foden
Writing in The Guardian, Giles Foden observes that "Information technology can be the friend of writers, but more often it is their worst enemy."
Say you are a novelist. You should be thinking of language and technique. That is your calling, or your business, depending on how you look at it. In either case, you should be trying to hang on to the informing impulse that blew life into your idea. That original "inspiration" is how you will add to the stock of human knowledge. It's a gift. Do you receive it graciously? No: you think of fonts and hard drives.
But, he continues, "All that notwithstanding, there are times when one does want the most up-to-date software as a writer."
I run Eastgate System's amazing program Tinderbox for research and note-taking. It is effectively a relational database with a graphical user interface: so one is able to display or map all the various levels of one's notes, as well as links to the internet and other material.

As a content management system, Tinderbox is very clever and elegant. The visual "box" of each note is also a file, so it can be saved into as well as moved around the screen....In some ways, Tinderbox is a little like the Copydesk/Quark Despatch system used for making up these newspaper pages: each article is both a quasi-analogue visual object on the screen and a digital file in itself. Of course, it is all digital really, but human beings aren't. Which is why this sort of programming is becoming more and more common.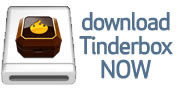 for Mac OS X. What's new? ❧ More download options.
Tinderbox for you, for your team, or your enterprise. Plus upgrades, The Tinderbox Way, and more.
---
Learn About Tinderbox
Using Tinderbox
Syndication
EXCHANGE

Tinderbox Public File Exchange
TINDERBOX

Tinderbox news
Subscribe!
Keep in touch with Tinderbox! Moderated, concise, and timely; we never share your email address.