Lindsay breaks the sound barrier outside her web
[back] Lindsay's My Story was one of the last works she created in her art class. Lindsay continued to work in her Storyspace web during the remaining weeks of school following her AP portfolio submission to the College Board. She completed links, added detail slides of her works and addressed my various questions and observations. This time for reflection and organization became very valuable to all students in the class. Not only were they working to redefine their experiences in and through their own webs, but they began discussing the evolution of each others' art and lives, as well.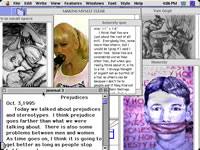 For example, Lindsay brought in the pop music group No Doubt's song "I'm Just a Girl" for class critique. This encouraged more discussion about women's issues and included Lindsay's own artwork and research. Bubba brought up the film portrayal of women as powerless victims or objects of desire. He said he would never have considered talking to Lindsay about such things before. "I thought she was just that typical do-good cheerleader," he said to the teacher privately. Two other female students began looking at their own work and webs as places to discover and reflect on their lives as women. One created a Storyspace web path based solely on women's issues and another began to formulate plans for new works of art that would include issues of teenage women.
Lyle, the student who had Lindsay in a stronghold the previous term, shared in many of our discussions of gender equity. He revealed that he had changed his perception of Lindsay as a person and tried to find a way he could get her to ask him to the Prom. He said that now he was more careful and thoughtful of what and how he referred to women now. The challenging discussions Lindsay had begun to initiate in Psychology class made this especially evident for him. He could not believe the change she had undergone, and added that he was really proud of her growth and the way she now asserted herself. Lyle also said that he realized that his own values and stereotypes of women were changing.
Jennifer, Lindsay's friend who was not in art class, came by for a visit during one of the graduation practice days. She said that Lindsay challenged her whenever she settled for a female stereotypical role. Jennifer felt that Lindsay's art and art class had caused her new assertive attitude. "Yeah," Lyle said, "but, it was more because of her web because we had to be able to question and defend ourselves and what we said there. That was the whole point!"
Tones and issues vibrate through Lindsay's hypertextual experience
"The whole project this year makes you think more than you normally would because sometimes the questions that you ask us in the web are not things that I normally think about. Then once I start thinking of an answer to that it makes me think about other stuff. Like. . . I'll never watch television in the same way because there are so many hidden things in there. Before it was like I just watched and did what was put in front of me and I didn't realize the connections or anything. Then once you see the connections...you see how there is hidden stuff, too, and it is always in your mind." (Lindsay, personal communication, June 6, 1996).
Coming to voice
Prior to this study, Lindsay was a very quiet, docile student. She blindly accepted what the teacher, textbook, and curriculum deemed appropriate for her to learn. She also acquiesced to her domineering boyfriend and to the ways he commanded her to act. "I think I had always felt that even if I could challenge my teachers, my textbook, or my friends, it wouldn't do any good," Lindsay said.
Lindsay's experiences working in her computer web appeared to provide her a comfortable space to begin thinking and challenging the artwork that she studied and her ideas about herself. She created her very personal My Story as a result of her research, interpretation, and comparison of the work of Adrian Piper to her own life in her Storyspace web. The dialogue that took place between Lindsay and me, her teacher in her web both challenged and inspired her to incorporate her concerns and experiences into her art.
The dialogue allowed me to direct and challenge Lindsay to discover new and different artists. In response to these challenges in her web, Lindsay was inspired to voice her own personal and relevant issues.
It is impossible to overlook the fact that Lindsay viewed her study and life differently after her hypertextual experience. She no longer simply absorbed whatever information was delivered by her teachers, textbooks, or friends. Through the self-directed exploration made possible by her work in her computer web, Lindsay began to assert her voice as a student, an artist, and a young woman. She carried this newfound voice from the computer, into the art class and her life. She literally couldn't stop looking, searching, and questioning—not only her contemporary life experiences, but women's history, as well.
This searching and questioning was actually very much a part of who and what Lindsay was becoming. Even though she felt that the computer shielded her identity, the life she was seeing and constructing in her computer Storyspace web was hers and hers alone. Therefore, it was because of the hypertextual experience with the web that Lindsay began to see and find her voice. Through this recognition and understanding of who and what she was, she could more wisely begin to look at her future. And, most importantly, in this process, she was empowered to see that her story, her voice as a teenage girl, and her ideas and concerns, were worth a great deal to others.
Making art.
Lindsay's Storyspace web also illustrated a personal growth that began first with her thinking and connecting and then with her art-making. Lindsay said that once she began the process of looking deeply into her studies and into her life, her art just couldn't be about style and form alone anymore. With the forty works required in the AP portfolio, Lindsay said, "I would have really gotten bored doing just art about color or about shape and design, I had to do more."
Lindsay's rejection of art that was just about line, shape, color, and form could have been a direct result of the postmodern attributes of hypertext. Her understanding and valuing of multiple and different forms of interpretation was made possible because of the multiplicity required in her web construction. In other words, Lindsay's experiences with hypertext changed the way she looked at and made art.
Empowerment and liberation.
As Lindsay began to realize that in her computer web she had the power to inform other people, opportunities outside the computer appeared less threatening to her. She explained that sharing and debating issues in other classes was fun and exciting. Lindsay said that friends, family, and even her other teachers began paying attention to what she had to say. In other words, Lindsay appeared to be liberated to formulate her ideas, concerns and opinions in a way that enabled her to be comfortable and confident to share her voice and to feel that she was being heard.
Lindsay's Storyspace web illustrated a personal growth that began first with her thinking and connecting and then with her art-making.
Because Lindsay's personal life and other classes began to pervade her study in the art room, she began to concentrate on those issues and artists who were the most relevant to her life and her thinking. This entire process took place in her Storyspace web. Outside the web, she taught other students and teachers in other classes about women artists and feminist issues. She became a woman's issues advocate in the school and a strong young woman that according to Lyle, "no one will mess with anymore!"
It seemed as though Lindsay's hypertextual experience inspired her to discover that her teenaged-girl status was not a reason for the dismissal of her ideas and opinions. She seemed to discover a newly found energy, power, and knowledge of herself as a woman as a result of the valuable insights and questions that were formulated in her Storyspace web. In other words, it was as if Lindsay's experiences with hypertext enabled her voice to sing. And in that singing, Lindsay was both liberated and heard.
Following her experiences with hypertext, Lindsay said that she did not feel powerless or submissive anymore. She began to see her art, her story, and her Storyspace web as a way to direct her readers and viewers to understand what she was saying. "When you write on the computer it is easier to talk with someone you are not comfortable talking to face to face. And with the web you can link and point to the stuff that you are talking about and it makes sense to people who otherwise wouldn't listen to you," said Lindsay. Through her web, Lindsay discovered that there were many different ways to look at and compare works of art. She took this multiple way of looking and interpreting to her other experiences both in and outside of the art class. In this process, Lindsay discovered that she had the power and the ability to make and reveal connections that she and others may have never considered before. In other words, Lindsay saw that even if her own ideas, thoughts, and concerns differed from those of her teacher, textbook, or curriculum, they were still valuable. The value lies in recognizing difference as possibility.