A Hypertext Tool for Writers and Readers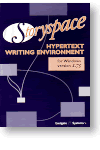 Storyspace is a hypertext writing environment, especially well suited to creating large, complex, and challenging hypertexts.
Storyspace is designed for the process of writing. Where other systems often emphasize visual presentation, Storyspace emphasizes writing, linking, and organizing. Storyspace creates and follows links quickly and directly.
Most importantly, Storyspace gives you live, informative and powerful graphic views of hypertext structures.
Storyspace is available for the Macintosh and Windows platforms.
The Tools Authors Need
Each place in a Storyspace hypertext is a writing space. Writing spaces contain text, pictures, and other media. To link two writing spaces together, just draw a line between them.
For working with hierarchical structure, you can drag writing spaces inside other writing spaces to organize and reorganize your writing.
Storyspace gives authors and readers multiple ways of viewing and mapping the hypertext, to see both the hierarchical structure and the links. Charts, outlines, and maps are instantly available. You can keep many views open at once.
Storyspace creates hypertexts that you are free to publish or redistribute without royalty, and also exports to the Web. It is an ideal storyboarding tool for all interactive media.
Using Storyspace, you can create all the links you want with unprecedented freedom. Make links with just a click of the mouse -- then use Storyspace's tools to organize and link complex information. When you are done, Storyspace can translate your document into HTML, ready to use with other Web tools or to upload to your server.
How is Storyspace used?
Storyspace is best known as the medium for many of today's most notable published hypertexts. Well-known Storyspace hypertexts include such important nonfiction works as George P. Landow's The Dickens Web and David Kolb's Socrates In The Labyrinth , as well as such major hypertext fiction as Michael Joyce's afternoon, a story and Stuart Moulthrop's Victory Garden.
Writing in the New York Times Book Review, novelist Robert Coover noted that Storyspace is "the software of choice among fiction writers in this country."
Web designers use Storyspace to plan and implement ambitious Web sites. Storyspace maps help designers visualize the structure of a new site, and Storyspace's swift tools for linking and organizing let designers plan complex link structures with confidence. Web sites made with Storyspace range from storytelling to technical communication.
Storyspace has a long history of use in classrooms, ranging from secondary schools through graduate programs. Hypertexts written with Storyspace are found in libraries throughout the world.
Praise for Storyspace
"The software of choice among fiction writers in this country."
-- Robert Coover, The New York Times Book Review
"Storyspace excels in developing hypermedia documents from documents that have rich subtexts."
-- George Mitrevski, IALL Journal of Language Learning Technologies
"The finest hypertext system in existence... [the system] that most fulfills the dreams of hypertext visionaries."
-- Prof. George P. Landow, Brown University
"This medium has been the most fertile, flexible, giving, nurturing place I have ever found to write in. I love this space!"
-- Mary-Kim Arnold, Brown University
"The best way, to date, to write hypertext."
-- Prof. Howard Becker, University of Washington
"Especially well suited to working with large, complex, and challenging hypertext." -- Annabella Alberti, Sniffer
"At Christmas I received a copy of Storyspace, the most powerful hypertext writing program on the market. I wanted it for my hyperdrama and other hypertext work. To my surprise and delight, Storyspace proved to be the best screenplay structuring program on the market as well. Like Writer's Blocks, Storyspace links index-card-like spaces together - but in Storyspace, these spaces are full "word processing" writing spaces and they can be linked to and within one another in any combination whatever. Thus, in Storyspace, each slugline could be defined as a writing space, sluglines linked together to form sequences, other scenes linked together to form character arcs, and so on." -- Charles Deemer
"At the Royal Melbourne Institute of Technology (RMIT), Media Studies students are able to produce such hypertexts....within two hours of learning how to use the computer, and within three classes are incorporating still image, digitized video, and sound, into their hypertexts."
-- Adrian Miles, Media International Australia
"[Storyspace is] the leading hypertext writing software in academia and among 'serious fiction' writers."
-- The Interactivity Newsletter of the American Association of Advertising Agencies
"Storyspace is by the best hypertext program I've worked with, and my students agree even though I don't tell them I think this.
-- Elizabeth Sommers, UCSF
EASTGATE-LIST
Eastgate maintains an electronic discussion list for news and announcements about Storyspace, Eastgate's catalog of hypertexts, and hypertext research. To join the discussion, send e-mail to info@eastgate.com. Just ask to be added to the Eastgate-List. (We never give email addresses to anyone else).